News

Zosh, the all-terrain electric scooter guaranteed to give you 100% thrills and spills.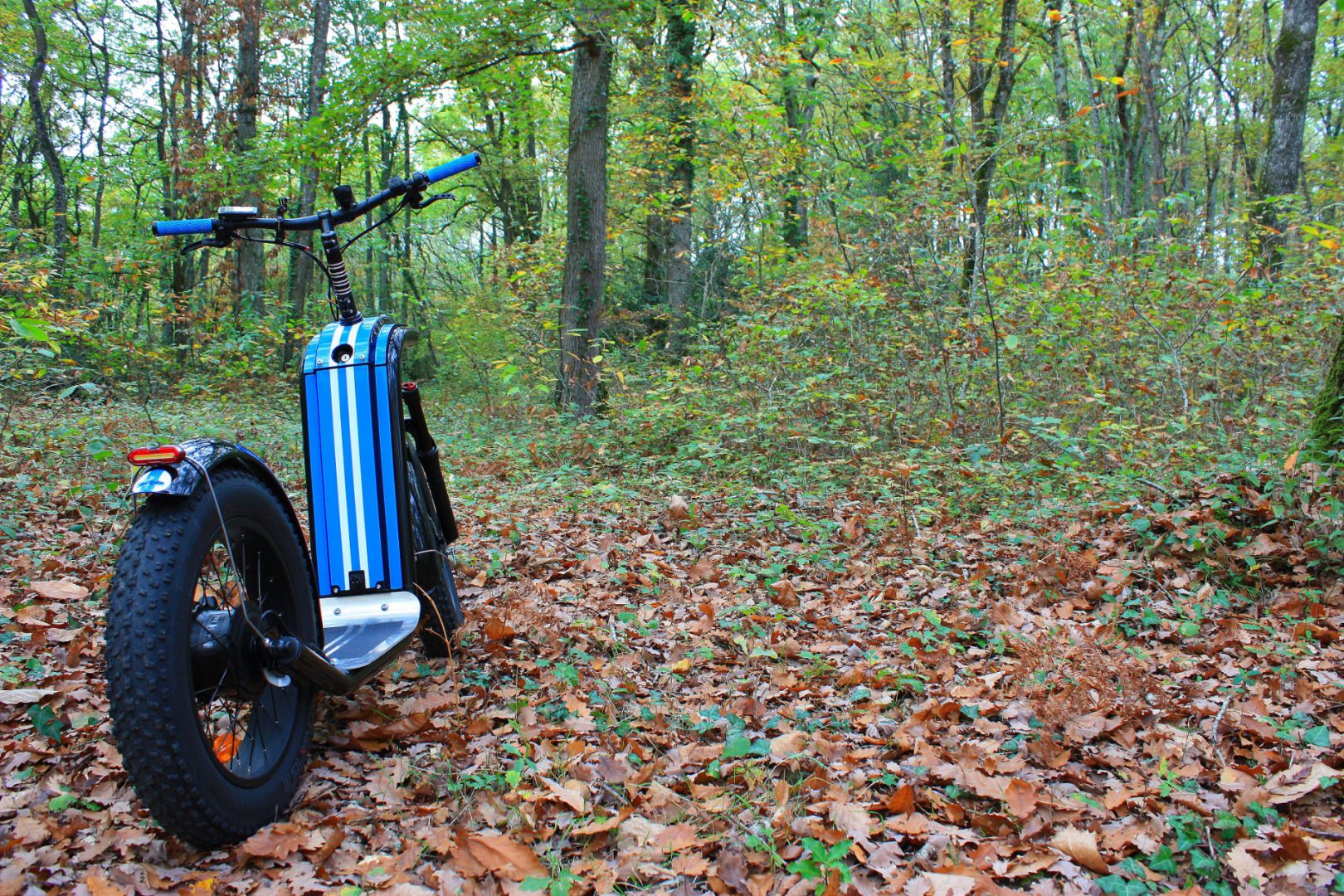 The Zosh electric scooter is the ally for all thrills and spills enthusiasts!
If you enjoy riding off marked paths, going down at full speed in the middle of nature, or weaving peacefully on the beach, the Zosh electric scooter will not disappoint.
Long-wearing, efficient, it will take you anywhere safely.
It does not lack character and will prove itself to be truly effective, to go up on hills, on both flat and on more uneven grounds.
Discover all its assets!
An ultra-efficient all-terrain electric scooter
The Zosh all-terrain electric scooter is firmly designed so it can withstand all your outings. The suspension fork, with its large frame and aluminum tubes, ensures optimum comfort and effectively absorbs shocks.
You may also count on the power of the motors. Indeed, the front and rear wheels both have their motor, with a 750-watts power. It has power, even on hills and difficult paths. The scooter can easily go up to 15 mph (25 km/hr). But it is possible to remove the speed limits from the scooter. Therefore, it can go up to 50 mph (80 km/hr) and can be used in the wild freely.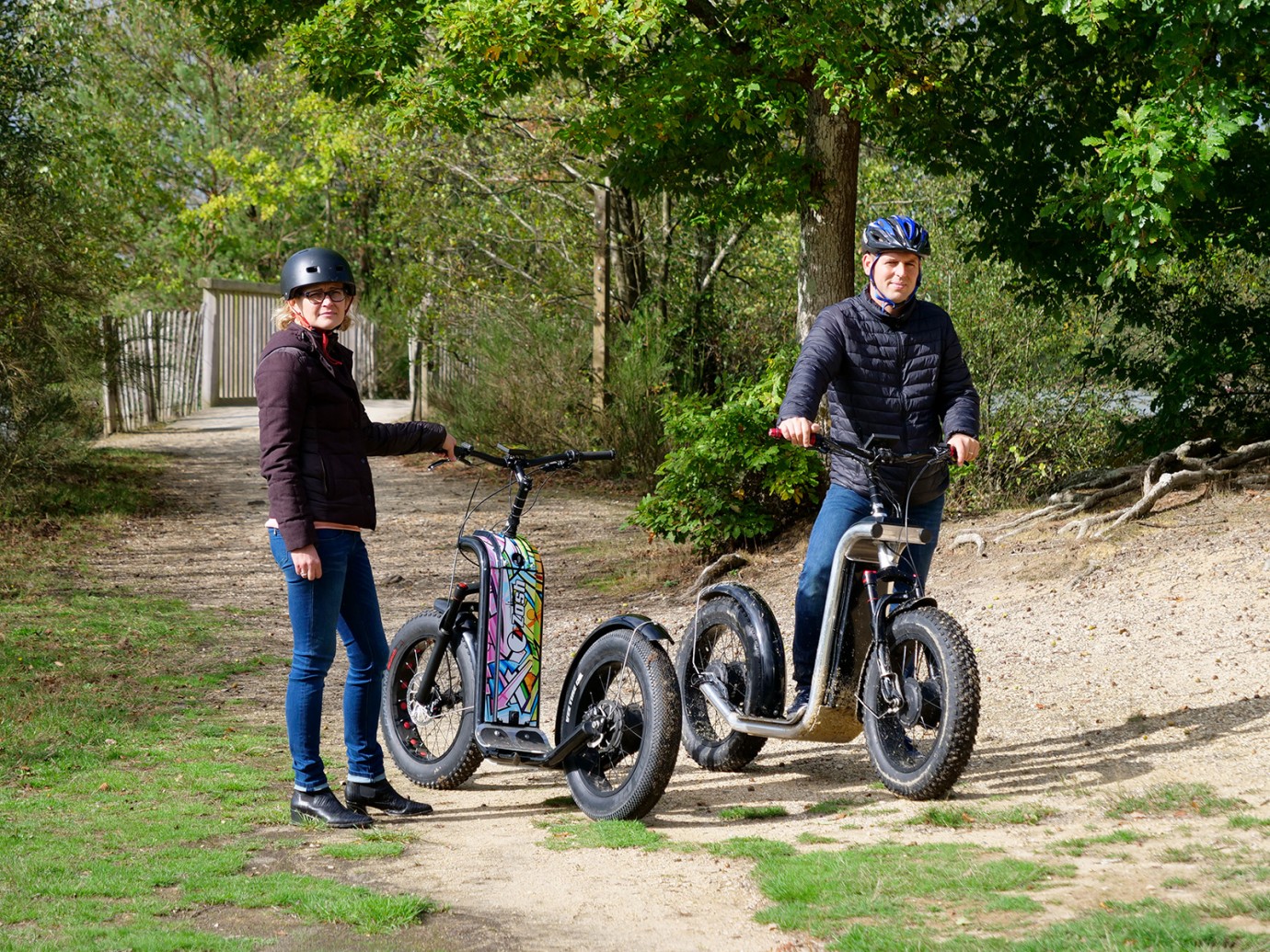 Security first! That is why our scooters are duly equipped with four pistons brakes (Shimano or Magura) with 180mm discs, ensuring effective braking in all situations.
The Lithium battery is available in 20 A/h or 35 A/h, providing you with 32 mph (50 km/hr) to 50 mph (80 km/hr) autonomy. You can ride your scooter peacefully; you know you will not have any bad surprises and that you will have time to come home.
Finally, the LCD screen gives you all the information you need: speed, level of assistance, mileage, operating time, battery charge…
Dirt, mud, sand, snow… the Zosh all-terrain electric scooter is not afraid of any ground!
Choosing an all-terrain electric scooter allows you to ride on any given grounds, no matter what the weather is.
Your outdoor outings reach an all-new level. You will find the same sensations you had when you were mountain biking, all the while having a more dynamic position since you are already standing up.
Do you ride in the mountains? At the altitude where snow is present? No problem, the all-terrain scooter still has its road-holding, and you keep on riding, even on snowy grounds. You do not need to fear mud anymore, the scooter retains its bite and gets you out of all situations, no more getting stuck or slipping!
Finally, if you ride along the beach, you surely alternate between the forest grounds and sand. Once again, the scooter will be very efficient there. Nothing prevents you from riding on a more cross-suitable track, closed, where you can try jumps.
When the electric scooter becomes a sport in its own right
This all-terrain electric scooter is versatile and is perfect for sports use. Its bite makes it extremely pleasant to ride in sport mode. You can choose up to five engines power levels. You are, therefore, riding a responsive and nervous scooter that follows you in all your outings.
Lightweight, the all-terrain electric scooter has a low center of gravity and large wheels for better maneuverability. It is also very stable, which will prevent unwanted slips or unexpected falls.
Unlike most scooters with smaller wheels, the Zoshes scooters do not have an uncomfortable mid-leg bar. The wide frame leaves room for your feet and can rest comfortably on the wide platform. This particularity allows you to drive more dynamically as you have room to be at ease on the scooter.
You can count on your Zosh to accompany you on all your adventures outdoors. Get away in complete safety.